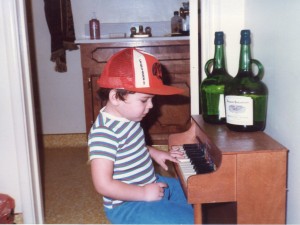 I have been playing music since I was a very small child. I started on the piano and eventually moved to guitar and drums as my other primary instruments. I've also been known to dabble in accordion, bass, and mandolin. I have been largely self taught, playing by ear and improvising rather than reading sheet music or playing classical compositions.
Over the years I have recorded a handful of demos and odd songs under the name Regular Gonzalez, a moniker I stole from Futurama and use for my solo projects. Occasionally I perform these songs in public, currently in the Portland area.
I currently have two bands with my long-time musical collaborator, Blake. The first, Cartoon Violence, is a nerd rock band along the lines of DEVO or They Might Be Giants. The second, Chewbacca Khan, is an instrumental lounge act playing piano and drum jazz interpretations of 80's and 90's radio hits. I also play keyboards with The Sincerelys, who are the house band at Adventureland Ballroom, where I currently serve as the promotions and booking manager for live shows.